Ever wondered how Tavern West puts together wine lists?
We all love a great food-and-wine pairing during a night out. You'll enjoy it even more once you understand a little bit about the art that goes into creating our amazing wine selection.
There's a lot of thought, planning, and preparation that goes into making a wine list.
Keep reading to learn more!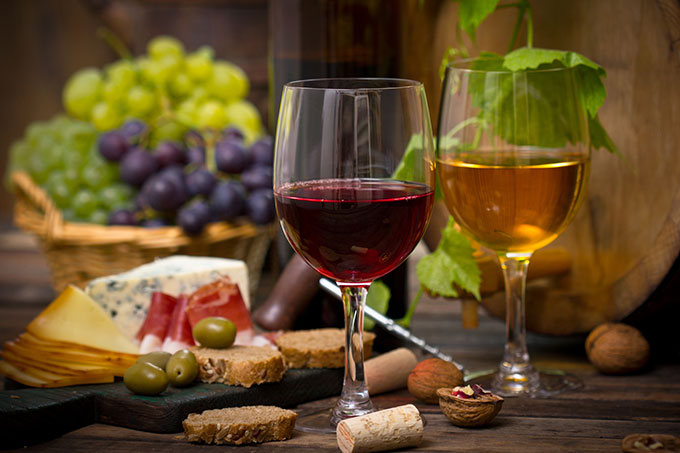 How Do We Create Our Wine List?
Before the wine list can be put together, our sommelier has to narrow down the list from a seemingly infinite number of wines worldwide.
What are the factors they consider when putting this list together? Let's take a look.
1. Pair-ability
Obviously, it's important for our wines to be interesting and unique. However, we always balance that with pair-ability considerations.
Pair-ability simply refers to how well the wines on the list will pair with foods on our menu. Our wines are carefully selected to pair well with our featured menu items. No matter what you order, we will always have a wine that goes with it.
2. Variety
We also are sure to have a rich variety of wines to suit the tastes of different customers.
On any wine list, there needs to be a variety of different types of wine represented. This variety means not just white and red, but also offerings like dry and sweet, heavy and light, complex and simple.
There also need to be a range of prices. This way, we ensure that there is really something for every one of our diners.
Even the least expensive wines on our menu are chosen with care. When you come to Tavern West, you are getting a good value for the price of your wine no matter what you decide to spend.
3. Seasonality
Different wines are more appropriate for different seasons. This doesn't mean that red wine should be just for winter and lighter white wine should only be served in the summer. A spicy, complex white might be better suited for winter, while a dry, fresh red may pair better in warm weather with a specific, hearty dish.
We can recommend the right wine for you based not just on what you order, but also on the time of year. Even if you get the same dish, the perfect wine to pair it with, in the heat of summer, might be different than the perfect pairing for our icy local temperatures.
4. Customer Preferences
Because we take the time to get to know our clientele, we consider customer preferences when building our wine list.
Conversations with customers translate into changes to our wine list. Any list of wines will be found lacking if it doesn't represent what our customers enjoy.
Some diners are more adventurous, while others may have a usual wine of choice. And we pride ourselves on enticing people to try something new when they visit us.
5. History
Many of the world's best wines have a story behind them. When creating wine lists, the history, story, or geography of the wine can add interest and excitement.
Our knowledgeable staff can tell you all about the wines on our list. This makes a great talking point that can help servers connect with customers, turning dining out into an educational experience as well as a culinary one.
6. Clarity
Wines come from all over the world. When reading the list of wines at a restaurant, most customers are sure to come across words and wines they've never heard of before.
However, a great list should be clear and easy to read, not intimidating. We make sure to provide information about our wines in a way that's clear and simple to understand.
Our servers will answer any questions you have about the wine list and help you understand what you're ordering.
7. Organization
The way the list is put together and organized can be just as important as the wines listed on it.
We keep it simple, with the right variety of wines to complement our current menu offerings. You can choose a wine based on the winemaker, the varietal, or on your server's expert recommendation.
8. Winemakers
Modern restaurant-goers are interested not just in food, but in where it came from. Is it fresh, local, organic, or grass-fed? At Tavern West we pride ourselves on sourcing as much local produce, meat, liquors, and other ingredients as possible, even growing our own greens and herbs in our greenhouse throughout the summer months.
Similar considerations go into wine selections. The way a wine is made, and the philosophy of the winemaker, can play a huge role in which wines make it to the list.
We source wines from some of the best winemakers in the world. Both we and our customers prefer wines that are handcrafted with a passion over wines that are made on an industrial scale with no attention to the art and history of winemaking.
9. Excitement
Giving customers the wines they expect to see on our list is important.
However, so is having some exciting, unique options that other restaurants don't offer. We keep things fresh and interesting on our list, so you can choose whether to stay on the safe side or try something new.
What's Your Favorite Wine?
Think about the wines you know and love. You're sure to find both old and new favorites at Tavern West when you stop by the dining room. If you don't know what to order, our servers have all the knowledge you need and are happy to help you choose, sometimes providing a taste of two varieties so you can taste what pleases your palate the best.
Have you tried our wines yet? Make a reservation today by calling 970-455-8382, and ask your server about the perfect wine pairings for your meal.